It's early August.  Even before I flip a page of the calendar, I know it.  Just a week or two ago, I walked down the little lane of pine trees that leads to my horse corral to let the horses out to graze for the evening.  The falling sun highlighted the tawny grass of late summer in the pasture past the trees.  Its warm dried grass-straw scent drifted through the pine needles.  Then, I heard it.  The crickets, out in the grasses, began their autumn song.  Like an orchestra hidden in the grass, I imagined them rubbing their upper and lower wings together to compose their songs.  In front of the crickets, an invisible autumn waved its legs to lead their chorus.
A few days later, I spied autumn in a choke cherry tree.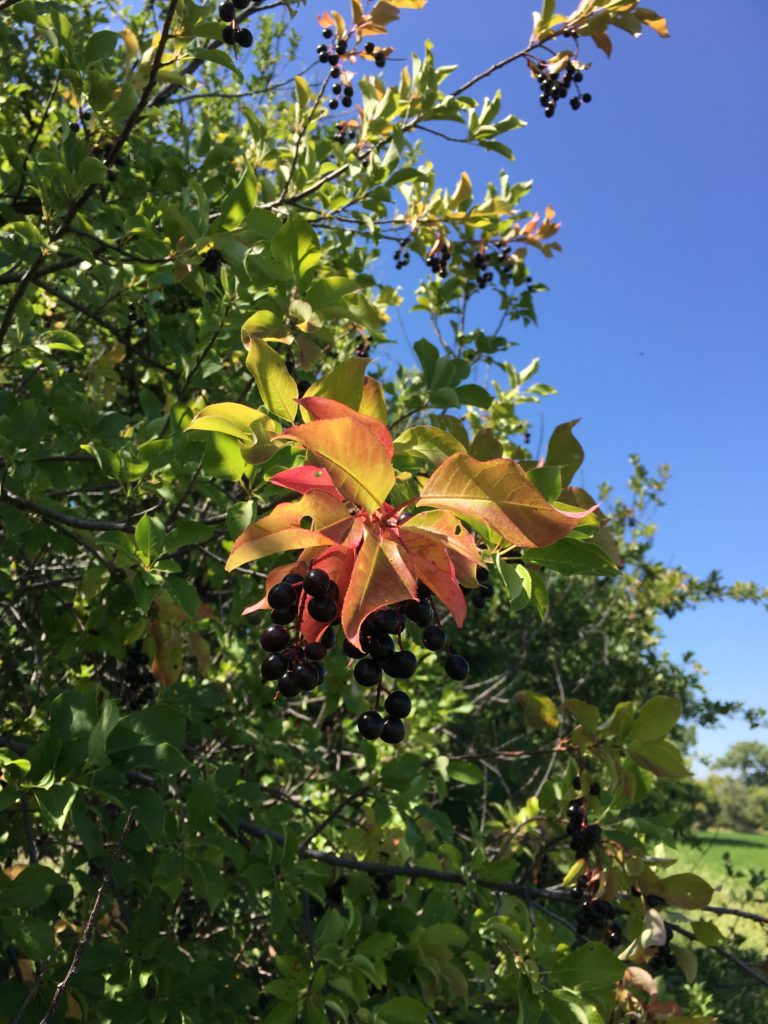 Soon, but not too soon, the leaves will turn yellow, flame, deep red, purple and shades in between.  If we are lucky, they will continue to hang around for several weeks.  I look forward to the leaves of autumn, and will miss them when they have fallen.  Then, the trees will slumber through the winter.
The thought of the time when trees sleep and their yearly absence of leaves brings to mind this poem that tells of their gifts to us.
When I Am Among the Trees
When I am among the trees,
especially the willows and the honey locust,
equally the beech, the oaks, and the pines,
they give off such hints of gladness.
I would almost say that they save me, and daily.
I am so distant from the hope of myself,
in which I have goodness, and discernment,
and never hurry through the world
but walk slowly, and bow often.
Around me the trees stir their leaves
and call out, "Stay awhile."
The light flows from their branches.
And they call again, "It's simple," they say,
"and you to have come
into the world to do this, to go easy, to be filled
with light, and to shine."
-Mary Oliver