Vying for first choice of my favorite books is The Wood Wife by Terri Windling. Terri Windling is an American author, artist and folklorist who now lives in Devon, England. In order to give you a better introduction to Terri Windling, I refer you to her information here.
The first time I read The Wood Wife, twenty some years ago, I was glued to it. Terri Windling weaves together the ordinary with the mystery of the other world to gift us a story read with caught breath in between gasps of "what next" and "how I wish I were there." Myth & Moor is Terri Windling's long-running blog. With no hesitation I can say it is my favorite. The words, photos and artwork are riveting. Nine times out of ten, any book Terri Windling recommends is well worth reading. She writes not only about myth and folklore, but about the land and all of its 'scapes. Then she connects the medium we see and live in with that of myth in ways you can never imagine. Myth & Moor is found here. Plan on spending some time here. There are hundreds of essays to explore. If you hover your mouse over the pictures in her posts, you will find more words there.
I wrote the following about The Wood Wife, specifically the cover of my edition, which is pictured below. It was to be no longer than 250 words, and it registers 249. Try writing about something specific with a word limit. You will find it is hard, but how you ultimately say much with few words.
"It rests next to me as I write these words. A bit battered and softened, the edges rounded and curled slightly. The face on the cover has eyes that look far outwards and eyes that look far inwards, at once. It is a lean, strong face and it haunts me. A Native American face. Around it it swirl the suggestion of a bird's wing, sun rays, feathers, and lower down on the shoulders, fur. One eye is dark. The other light, being partially hidden by the brush of the wing. A young face, yet one that lives with an ancient soul. I want to know this face. I want to be this face, along with the soul that lives behind and within it.
My aunt gave me The Wood Wife 25 years ago. She recognized in me, even when I was tiny, the same knowing of the mystery and magic in this world that she lived, too.
I devoured The Wood Wife. Again and again over the years. It is MY book. My most loved book. The story I insist anyone read who asks what my favorite book is.
The spiral path beckons and I know I have trod it in my dreams. It has seeped into my own writing. That face on the cover waits, as if the being behind it rests within the pages themselves as a sentinel who guards the gateway to the mystery in this world we live in.
"Are you worthy?" the being challenges."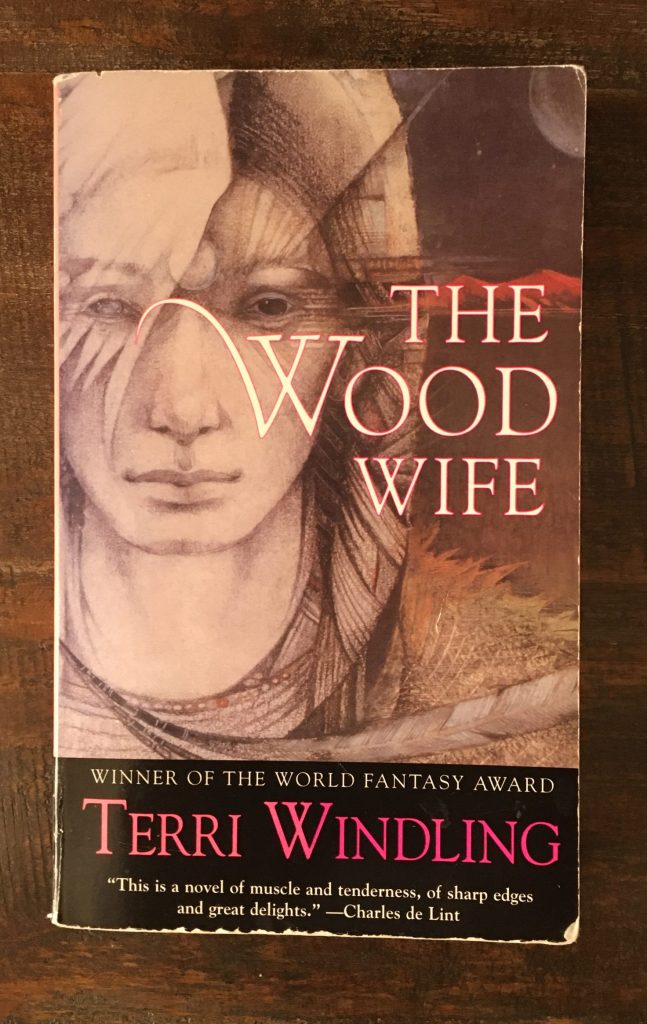 The edition of The Wood Wife pictured is a Tor Book, published by Tom Doherty Associates, Inc. Copyright 1996, Terri Windling.
---